SmartBillions.

World's

first

multi-billion-dollar

blockchain lottery.
Lottery
|
Advantages
|
ICO
|
Hackathon
|
Affiliate
|
Facebook
|
Twitter
|
Slack
|
Telegram
|
Github
DOWNLOAD THE WHITEPAPER:

Whitepaper
READ THE SMART CONTRACT:

Github


SmartBillions is the first fully decentralized and transparent lottery managed by an Ethereum smart contract. All bets and results are public and recorded on the Ethereum blockchain without 3rd party involvement. Only 0.25 % of the lottery funds are accessible to the smart contract operations.
SmartBillions tokens crowdsale ("ICO") goal is set at 200 000 ETH. 90% of the funds raised will be allocated to the Jackpot. The remaining funds will be designated to marketing.
SmartBillions Token ("PLAY") holders will receive a monthly dividend starting one month after the initial token offering closing date. The Estimated Annual Yield is over 30% .
Token Holders are given a revolutionary investment protection guarantee. They are allowed to redeem Tokens any time after the PLAY Tokens crowdsale closing date and reclaim most of the invested funds, even in the event of currently unpredictable issues.



Official Bounty Thread




Official ANN Thread in French




Official ANN Thread in Italian




Official ANN Thread in Turkish




Official ANN Thread in Polish




Official ANN Thread in Indoniesian




Official ANN Thread in Romanian




Official ANN Thread in Russian



The revolutionary character of the SmartBillions Ethereum smart contract lottery comes from:
1. The lottery is operated by a fully independent smart contract serving as a self-amending regulatory guarantor. The whole process is held on Ethereum blockchain.
2. The limited PLAY Tokens sale crowdfunding goal is set for the highest initial Jackpot of all online lotteries (180,000 ETH), with an unprecedented win structure not limited to the Jackpot value.
3. Full transparency and security thanks to the smart contract's elimination of any third-party involvement in the lottery process and funds management.
4. Lack of sign-up requirements providing full anonymity with instant Ticket purchase capabilities.
5. No prior deposit requirements - direct Ticket payment from players' digital wallets.
6. Immediate, secure and anonymous payouts directly after each lottery drawing.
7. Nearly instantaneous bet placement (under 1 minute), results (approximately 60 seconds) and win payout (instant).

SmartBillions ICO starts 16/10/2017 12:00 GMT

SmartBillions PLAY Tokens offering possess unique and revolutionary character. Is based on the following characteristics:
1. SmartBillions smart contract is finished and tested. The product is ready to launch unlike other ICO where the product development hasn't started yet.
2. 90% of the raised funds will be transferred directly to the lottery Jackpot.
3. Crowdfunding backers will receive almost 80% of the Tokens.
4. The first token sales with guaranteed downside protection for Investors and Token redemption possibility. The latter means that backers will have the unprecedented ability to redeem PLAY Tokens anytime – with most of their funds returned. This feature has never been offered in by any previous "ICOs" (initial coin offerings).
5. Monthly dividend payout directly from lottery Ticket sale revenues.
6. A ready to market product with full-feature operating ability, limiting project risk and need for long-term project participation.
7. Risk-free smart contract product with full security proven in the hackathon process (hackathon prize: 1500 ETH) provided by SmartBillions' creators to validate the system's safety).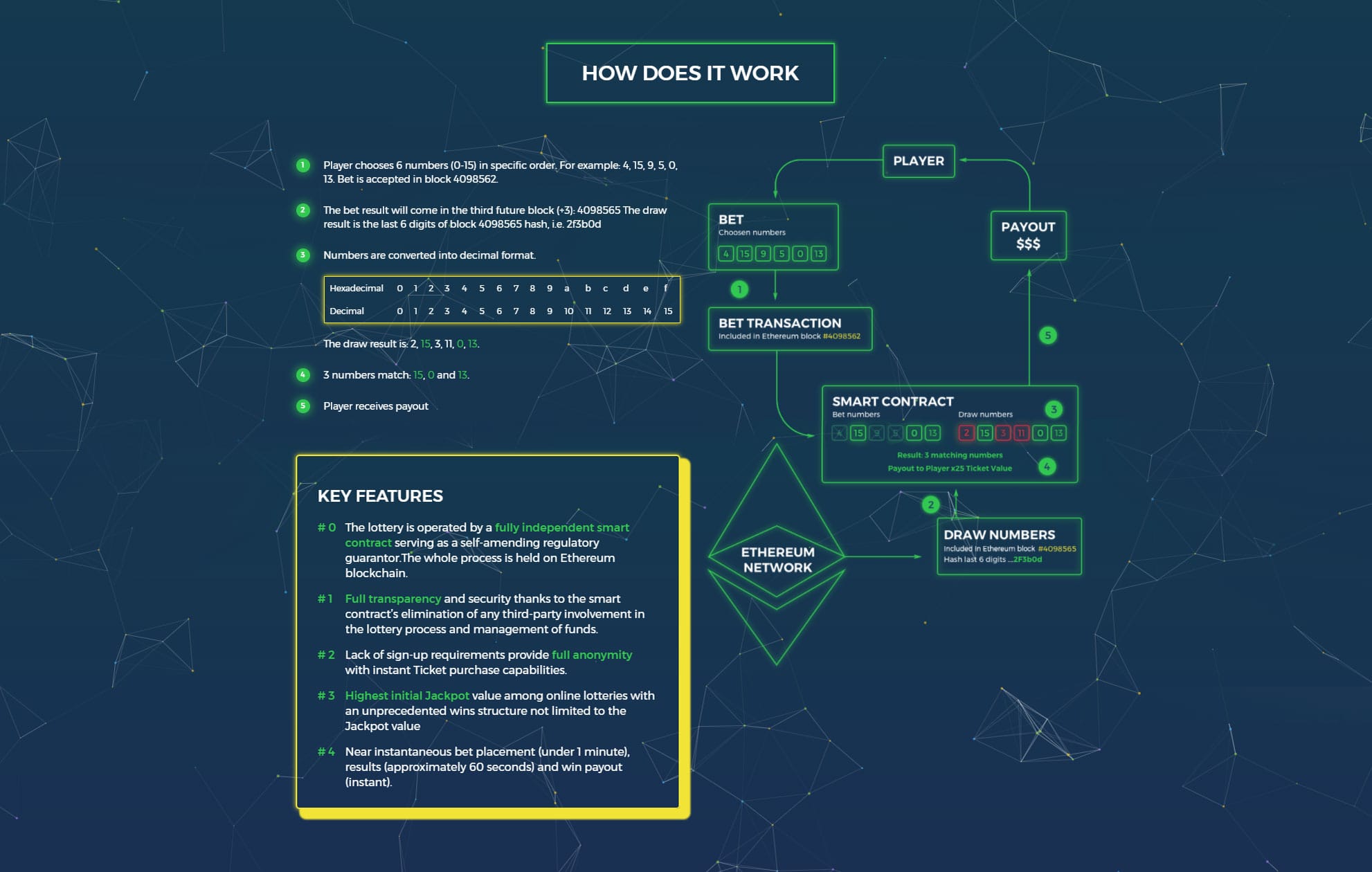 ICO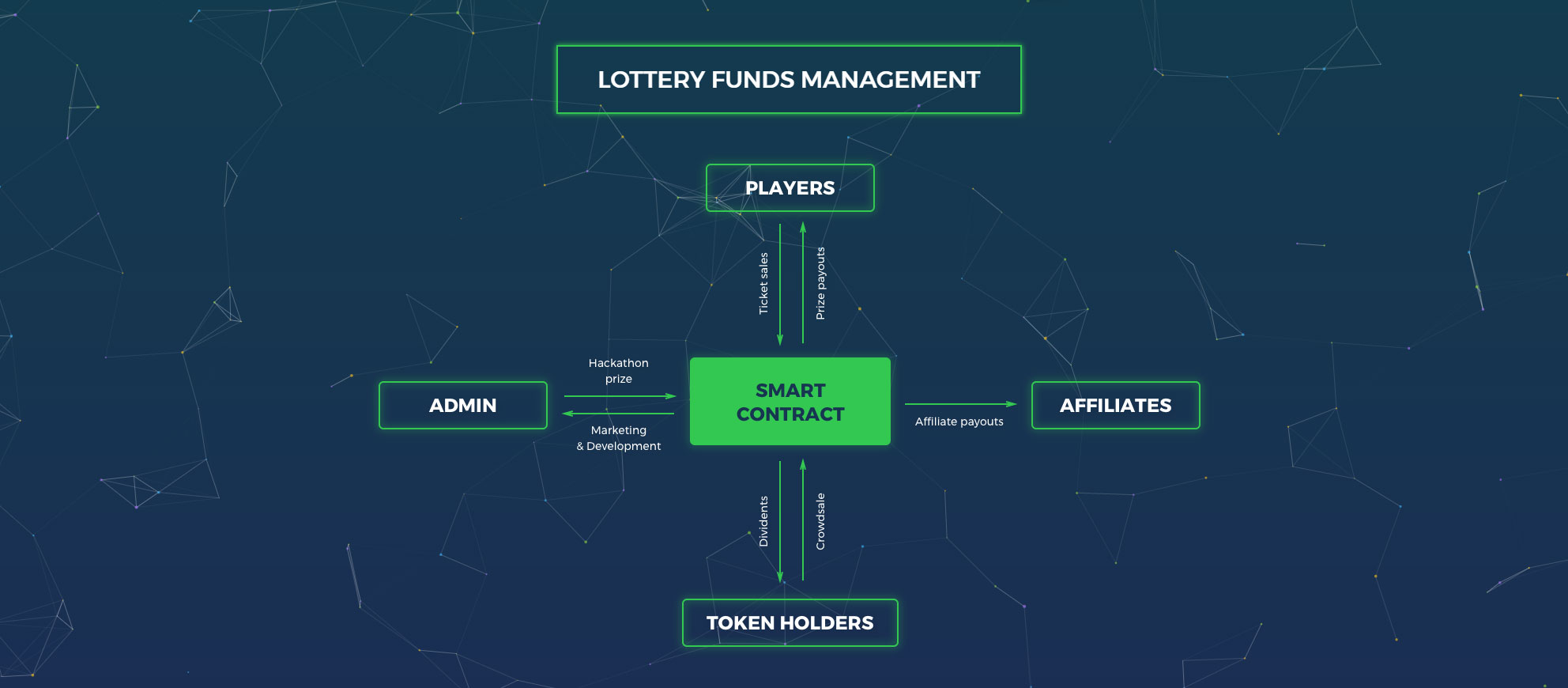 FEEL WELCOME TO ASK AND DISCUSS! WE ARE HERE TO ANSWER ALL YOUR QUESTIONS.
Lottery
|
Advantages
|
ICO
|
Hackathon
|
Affiliate
|
Facebook
|
Twitter
|
Slack
|
Telegram
|
Github
JOIN THE COMMUNITY:
Twitter
Telegram
Slack
Facebook